Fox 40 News
November 20, 2012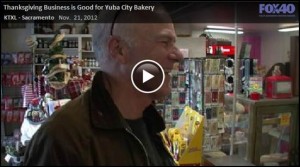 You would think that the Stephen's Farmhouse roadside store would be quiet during the late fall; instead, it's buzzing with activity as regular customers rush to buy Thanksgiving pies.
"This is hugely busy, this is our busiest time of the year," said Cherie Stephens who owns the store with her husband Jeff.
The store sells produce, custom-made jams and gift items. But two small rooms in the back are crowded with bakery workers who will make nearly 1,500 pies that are special ordered. That doesn't include walk up sales of pumpkin, blackberry, pecan, cherry, Dutch apple and cream pies.
Stephens began making pies from home recipes when they bought the roadside business ten years ago located on Highway 99 a few miles south of Yuba City. The Thanksgiving pie push has almost outgrown the small building where dozens of boxed pies are stacked in a back room.
"We took 362 orders yesterday and the phone has not stopped ringing today," said Stephens.
Many purchases come from repeat customers.
"They're fresh, they're tasty, they're probably the best pies I've ever had," said Tony Lattuca who has made it a tradition to buy cherry pies when his parents come in from Michigan to spend Thanksgiving.
Many customers were surprised that their pies were still warm from the oven. On the other hand John Bingham picked up a "take and bake" pie, an uncooked pie he puts in the oven himself.
"It allows me to do a little cooking but not a lot of preparation…I could claim I made the pie," said Bingham.
Of the hordes of customers picking up pies, almost none took just one home. Stephens said her daughter took an order for 12 pies the other day.
Workers come in before the sun rises and leave late at night to fill the orders. They are composed of relatives, friends and friends of friends drafted into what Stephens called 'organized chaos'.
"If you're connected to the Stephen's family you're probably going to be at our place…working. If somebody comes here to talk to me, they're going to be working," said Stephens.
Making so many pies hasn't made them any less tempting to eat for those drafted for kitchen duty. Asked if they eat their creations, they all said yes as if insulted by the question.
"Whatever is left over that people don't pick up that's what we'll take home and that will be our Thanksgiving pie," said Cherie's daughter Madeline enthusiastically.
Despite their popularity, Stephens says she has no plans to expand her operation preferring instead to service her long time local customers.
"I really have no desire to go bigger and franchise or move our location. I'm happy where we are," said Stephens.
http://fox40.com/2012/11/20/thanksgiving-pie-push-at-roadside-bakery/